The New Sweden Centre store
To order, click the link to the printable order form. Print the form, fill out completely and mail with payment to:
New Sweden Centre
PO Box 12001
Wilmington, DE 19850
The items that you order from the New Sweden Centre Product Catalog contribute funds to operate the Hands-on-History Museum.
Thanks!
---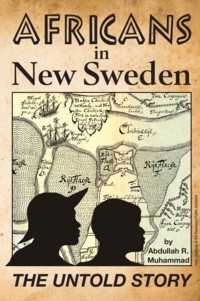 Africans In New Sweden - The Untold Story
$24.45 ($19.95 plus $4.50 shipping and handling)

Abdullah R. Muhammad


One of the best kept secrets of the European colonization of the world, particularly of North America, has been the hidden role of Africans—both free and enslaved. Much of what was accomplished by those European colonists, particularly the Swedes and the Dutch, was greatly overshadowed by the audacity of the English, who became the ruling European nation in the original 13 colonies. The English's accomplishments, unlike that of the Swedes or the Dutch, were achieved at the great expense of hundreds of thousands of kidnapped Africans forced to endure brutal and inhumane treatment for centuries. The purpose of this book is to shed light on the role that many of those Africans played in shaping the first viable European communities during the 17th century, namely the Swedish and Dutch communities, which were at the forefront of shaping what is now Delaware. This book arose from the innocently accepted claim that only one African existed in New Sweden from 1638 – 1655 and then as the Swedish Nation from that point until 1700. This book attempts to uncover all aspects of African involvement in the building of colonial America, with particular attention given to the role that Swedes and the Finns played in affecting the institution of slavery both in and around their colony. Furthermore, the book ambitiously tries to spotlight the contributions of some of those Africans who identified themselves with Swedish or Dutch settlers. The goal of this book is to acknowledge the African presence and to energize the discussion of their contributions and their presence during those formative years of colonial America.

---
New Sweden on the Delaware
$29.50 ($25.00 plus $4.50 shipping and handling)

Photographsby Ken Peterson
Text by Kim-Eric Williams


A photographic tour of the Historic sites of America's First Swedes and Finns.

---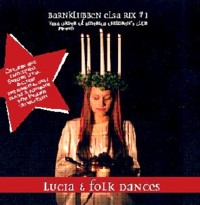 Learn about Lucia traditions and dances
$34.50 ($30 plus $4.50 shipping and handling)
This wonderful package of a 2-sided audio CD, a booklet on Lucia traditions combining Traditional Lucia songs, Folk Dance tunes plus printed dance instructions is available at the New Sweden Centre.
This delightful arrangement includes spoken texts of the Lucia pageant, Lucia songs sung by the children of Barnklubben Elsa Rix, Lucia songs with instruments alone, and instrumental renditions of many popular Folk Dances and some of the most popular Swedish Ring Dances. Instructions included. This is a package that can be enjoyed for its musical content and utilized by clubs, schools or dance groups looking for quality musical accompaniment and instructional information. It has been many years in the making. Some of the songs are re-recorded, digitalized versions created by some of the best Swedish musicians . . . Walter Eriksson, Eric Olof Ericson, Einar Ericson, Wayne Soderlund and Jeanne Eriksson Widman Andersen.
(Go to our links page to see videos of some of these dances.)
---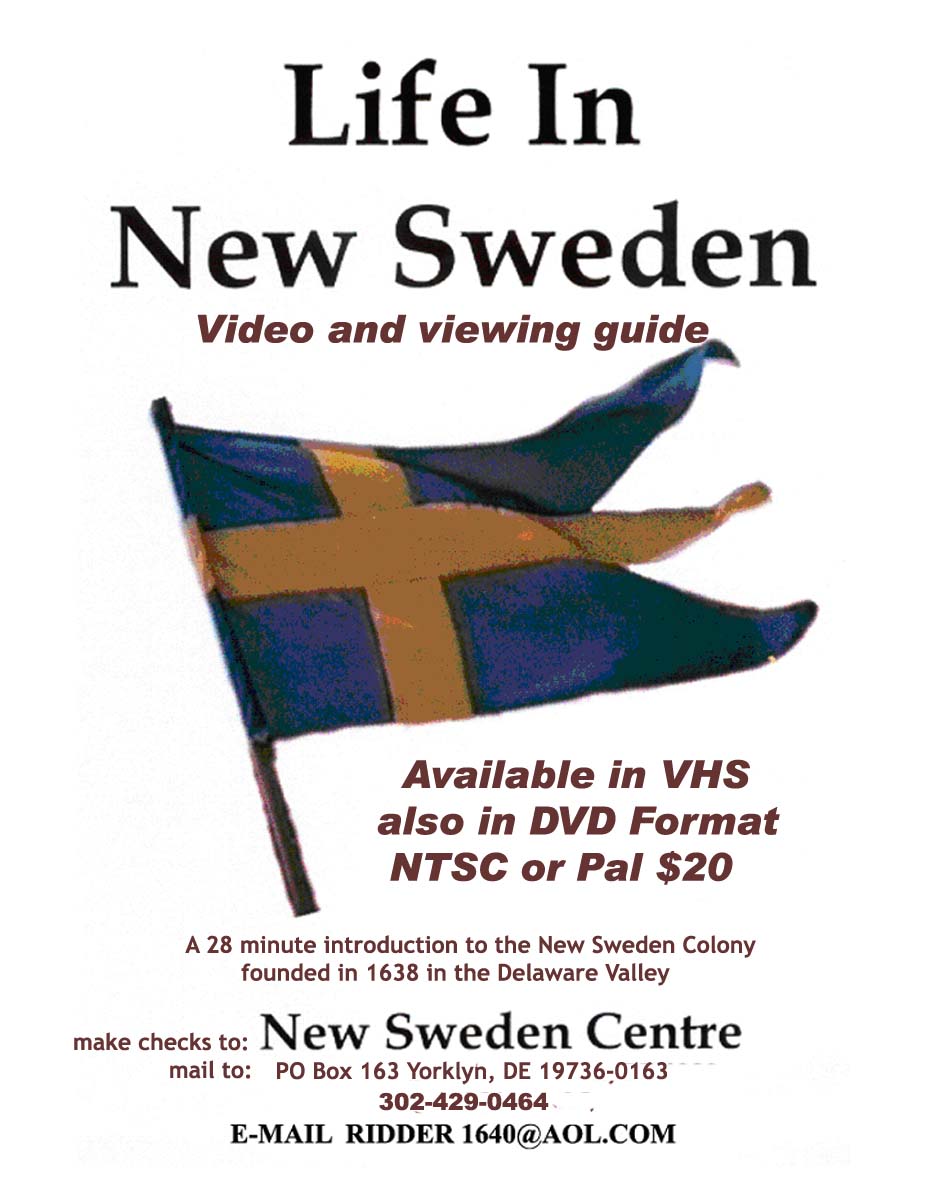 Life in New Sweden Video and Viewing Guide
$24.50 ($20 plus $4.50 shipping and handling)
This is a tool to help you learn about and share your Swedish Heritage. It is uniquely designed for interaction of audiences of all ages. An optional pause approximately every 5 minutes allows for discussion or for directing questions found in the accompanying video guide, which also includes the answers for the presenter and a word puzzle which can be photo copied for the audience to play.
---

The Eight Old Swedes' Churches of New Sweden
$12.50 ($8 plus $4.50 shipping and handling)
Rev. Dr. Kim-Eric Williams
with Photos by Marianne Mackenzie
This 32-page, soft cover volume contains a history and photo tour of Holy Trinity, Wilmington, DE; Gloria Dei, Philadelphia, PA; St. Mary Anne's, North East, MD; Trinity, Swedesboro, NJ; St. Georges, Pennsville, NJ; St. Gabriel's, Douglassville, PA; Christ Upper Merion, Bridgeport, PA; and St. James Kingsessing, Philadelphia, PA.

---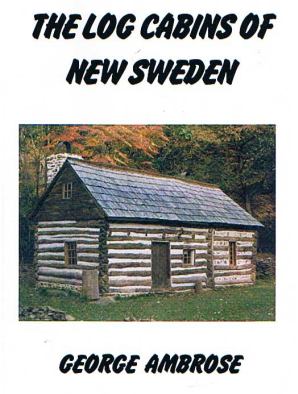 The Log Cabins of New Sweden
$14.50 ($10 plus $4.50 shipping and handling)
George Ambrose
with Photos by Marianne Mackenzie
Includes Bibliography of books on
New Sweden NSC 2002 Publication
Library of Congress #2002090077
ITEM# NSC-1002