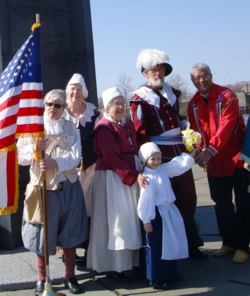 Celebrating Colonists Day 2014 are, from left, Mark Hogate, Donn Draper, Aleasa Hogate, descendant of Anders Larsson Dalbo 1640, Donna Draper's granddaughter, Bill Hutchinson, portraying Peter Minuit, and Chief Dennis Coker of the Lenape Tribe.
Coming events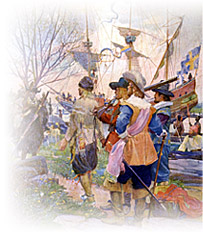 "The Landing of the Swedes" by Stanley M. Arthurs depicts the first contact in 1638 between the Swedish settlers and Native Americans. The meeting took place along the Christina River in present-day Wilmington.
The image is made possible through the generosity of the Permanent Collection of the University of Delaware
Visit us on Facebook
New Sweden Centre
TEL 302-429-0464
FAX 302-746-6755
Email: info@colonialnewsweden.org

Mail-Business Address:
New Sweden Centre
PO Box 12001
Wilmington, DE 19850

Tours/visits by appointment:
Please call 302-429-0464
to schedule a visit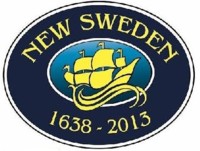 Click on the logo to go to the website of our partner, The New Sweden Alliance.




Colonists Day celebrates
arrival of first settlers
Annual event allows Wilmingtonians to educate
and mark their historic colonial roots
By Aleasa Hogate
Colonists' Day on April 5th in Wilmington, Delaware gave historians, genealogists, colonial reenactors, history buffs and the general public, an opportunity to pay homage to the early Swedish and Finnish settlers of the Delaware River Valley. This year's event celebrated the 376th anniversary of the New Sweden Colony, established on the banks of the Christina River in 1938 by Sweden, where Fort Christina State Park is located, at 1122 7th Street in Wilmington, Del.
The procession of colonial reenactors and representatives of the Lenape Tribe of Delaware, entered Fort Christina Park at 10:00 a.m. and paraded to the Carl Milles monument, dedicated in 1638. The Landing Day ceremonies were conducted by the Delaware Swedish Colonial Society with a traditional wreath laying and a circle of friendship dance lead by Chief Dennis Coker of the Lenapes. Miss Molly Draper, the charming granddaughter of Art and Donna Draper of the Delaware Swedish Colonial Society, presented Chief Coker with a fresh bouquet of yellow daffodils. Molly and her family are direct descendants of Charles Christopher Springer, who was a reader in the Crane Hook Church in 1688, when it was without a pastor.
Following the ceremony, everyone proceeded to the grounds of Holy Trinity (Old Swedes) Church where all the other activities were held this year. Representatives of Delaware, Pennsylvania and New Jersey historical and genealogical organizations participated in this year's event.
Colonists' Day continues to provide a venue where visitors can learn about the colonial history of the Delaware River Valley and enjoy the displays and demonstrations of early colonial history, including spinning, weaving, Swedish bread making and more. It also provides an opportunity for historical organizations, genealogical societies, colonial reenactors and those interested in honoring our early settlers to share and network about their various projects, sell their colonial wares and promote their programs and events.
Planning has already begun for next year's event, which will again be sponsored by the Delaware Swedish Colonial Society, Old Swedes Foundation and the New Sweden Centre. Organizations interested in promoting their unique colonial-era specialties: reenactors, crafters and vendors, are invited to participate.
Centre in transition
Museum without walls
Dear Friends,

2013 has been a year of transition for the New Sweden Centre. While we may no longer enjoy the use of our own space at the Kalmar Nyckel Shipyard, we are making a smooth transition into a Museum Without Walls. We have already established partnerships with several local museums.

• Our Captain Mannequin set is now located in the Bowers' Beach Maritime Museum in Bowers, Beach, DE.

• Our Swedish Lady and child, plus many of our kitchen items, are now located in the Hendrickson House in Wilmington, DE.

• Our Lenape Mannequin is now located at the Prehistoric Museum in Greenwich, NJ.

• Our "Explore New Sweden" panels are now located in the Swedesboro-Woolwich History Museum in Swedesboro, NJ.

• Our Cabin corner and fireplace, Black Anthony, Fort Christina Model, and our educational materials are on loan through November 1st to the Kalmar Nyckel Foundation.

• We are also serving as the "Non Profit Brand" in JA Finance Park, utilizing the Colony to Community panels as a temporary exhibit until we can create a new, youth focused exhibit at the Junior Achievement Center (JA) in Wilmington DE. This facility serves Salem County, NJ and New Castle County, DE and reaches approximately 10,000 students yearly.

• We are actively marketing the book, Africans in New Sweden by Abdullah R. Muhammad

• We have a nice collection of colonial tools, old but not period historical, we would like to loan to another museum. We will have some of the miniature Historical figures to loan out. Some of these will be used at JA.

This is an overwhelming task, but promises to expand our area of influence to promote New Sweden Heritage to new audiences. Our focus will be on outreach through our Settlers' Trunks and presentations to schools and organizations. We also plan to expand our re-enactor base of volunteers.

We are continuing to work with Old Swedes Foundation and the Delaware Swedish Colonial Society in the annual celebration of the landing of the Swedes and planning for Colonists' Day 2014, tentatively scheduled for April 5th.

Anyone interested in assisting us please get in touch. 302-420-0464 or e-mail us at info@colonialnewsweden.org. Feel free to call Education Director Aleasa Hogate at 856-678-5511


Regards,
Jeffrey R Gudzune,
Membership Chair, New Sweden Centre

375th Anniversary Conference presentations now online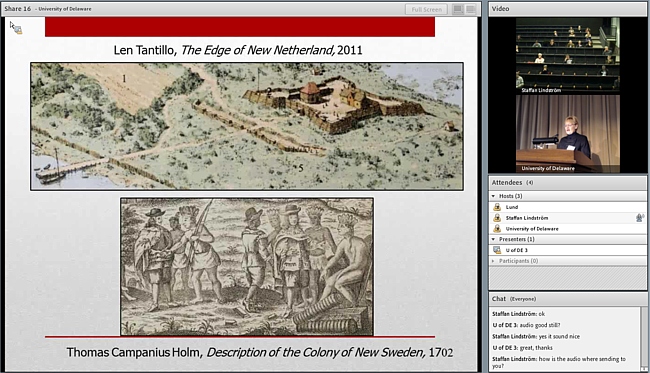 Lu Ann De Cunzo of the University of Delaware talks about the struggles the early settlers faced in the Delaware Valley in this online view. Her presentation is one of many from the 375th New Sweden Anniversary Conference now available here. The conference was held Nov. 8-10 at the university. The above link will bring up a web page listing the available talks with links to the recordings.



Peter Minuit, founder of New Sweden,
named to Junior Achievement Hall of Fame
The story of New Sweden


This seven-minute video quickly tells the story of the founding of New Sweden. It is a condensed version of a 26-minute video that is available in our web store for anyone who would like to make it part of their education or interpretive program.


The story of Black Anthony
Click here to learn about Antoni Swart, the African who lived in New Sweden. This 10-page slide show is a synopsis by Abdullah Muhammad of his recently published book: Africans in New Sweden, The Untold Story. The book is now available for order in our store. Click here for ordering information.

New brochure
We're excited that we have a new brochure of New Sweden sites throughout Delaware, Pennsylvania, New Jersey and Maryland. There's a map to show the locations and contact details for each location/organization are listed on the reverse side. Feel free to print off your own copy!


Traveling exhibit
One of our recent ventures was to support the current traveling exhibit called "Colony to Community: The Story of New Sweden" This display, developed by the American Swedish Historical Museum, is now available for your conference or special event highlighting local history. Send us an an email for more information.



Circle of Friendship
Participants at the New Sweden Forum create a "Circle of Friendship" around the New Sweden Heritage Monument. The tradition was started when the Pennsivlle, N.J. monument was dedicated June 6th, 2004. The ceremony honors the bond of friendship formed by the Lenape and the Swedish settlers of the 17th century. This year's forum was held June 6, marking the 5th Anniversary of the monument.